Art No. W24
Color: Green
Head width: About 24-25mm
extreamly soft fabric ideal for nonabrasive cleaning and handling of delicate optical-grade components such as coated lenses & sensors.
W24 swab can be used for cleaning Full-Frame dSLR,
including, but not limited to following models:
Canon
1DX, 5D MARK II, III, EOS-5D, 6D, 1DS-MARK II, III
Nikon
D3X, D3S, D4, D4S, Df, D600, D610, D700, D800, D800E
Sony
A900, ILCE-7, 7S, 7R, SLT-A99
Package: 12pcs/box
Price: US$24.9/box
Buy any one of EzKlean Filter, could get one Free box of EzKlean Swab, worth US$24.9
Available on Official Online Store only!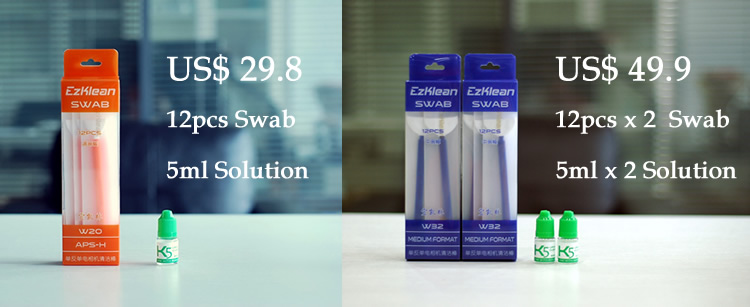 US$29.8 for 1 box (12pcs) of swab + 1 bottle (5ml) K5 solution
US$49.9 for 2 boxes (24pcs) of swab + 2 bottles (5ml x 2) K5 solution
Buy 30 boxes of Swabs (7 sizes available, any size assortment), US$747
Get free Filters and Sensor Clean Products
Available on Official Online Store only!
All of EzKlean Swabs are Patented.