Product Highlights:
- 1.1mm thick, Ultra Thin High-Grade Glass
- Double-sided Water-resistant Coating
- Double-sided Multi-layered Wide-range Coating
- 98%-99% extreamly high transmission
- L37, L39, L41 available
Some brands take Protective filter as UV filter, acturally that's not precisely.
Below is the diagram of UV filter. The UV filters have 3 common types, L37, L39 and L41, which means they could intercept/absorb the light within a certain wavelength, such as 370nm, 390nm, and 410nm.
As the Image Sensor of dSLR is not sensitive to Ultraviolet Light, for now the Protective Filters widely take place of UV filters.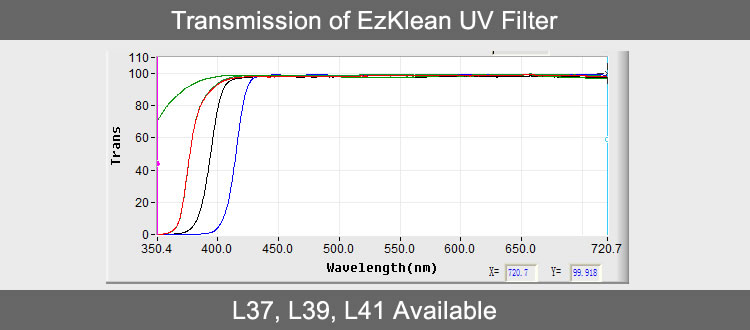 Absorb the ultraviolet light and reduce the bluish cast of daylight.
Buy any one of EzKlean Filter, could get one Free box of EzKlean Swab, worth US$24.9
Available on Official Online Store only!
EzKlean could make special filters for individual customer, for example, GND4"x6", 0.75 STOP, 0.45 STOP etc, if you have any reqirements, please feel free to contact us.