EzKlean Inc. design & manufacture full series of sensor clean swabs, such as mini swab, M4/3 swab, APS-C swab, APS-H swab, Full Frame swab, Medium Format swab etc.
Besides, EzKlean keep inventing new swabs for latest dSLRs.
EzKlean swabs use extreamly soft micorfiber fabric, which is ideal for nonabrasive cleaning and handling of delicate optical-grade components such as coated lenses & sensors.
7 Colors for 7 kinds of swabs
Thicker and longer handle for friendly handling
Ultra-soft microfiber swab head well protect the sensor
Patented Design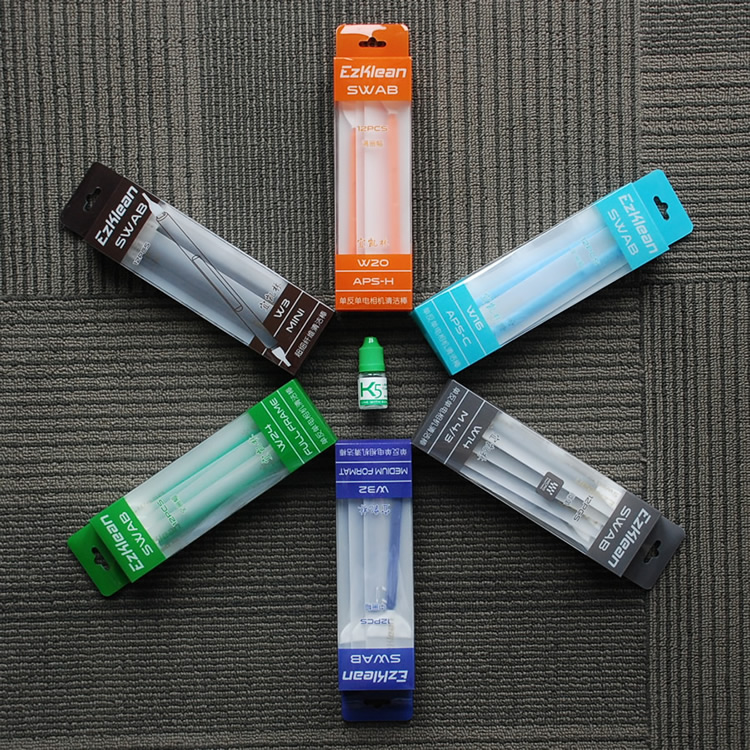 EzKlean can supply K5 Lens & Sensor Clean Solution to use with EzKlean swabs.
K5 solution has special ingredients with no harm to the human, which is quite different from any other brands.
Model: K5
Volume: 5ml / bottle
Price: US$4.9 / bottle
Package: 12pcs/box
Price: US$24.9/box
Buy any one of EzKlean Filter, could get one Free box of EzKlean Swab, worth US$24.9
Available on Official Online Store only!
All of EzKlean Swabs are Patented.